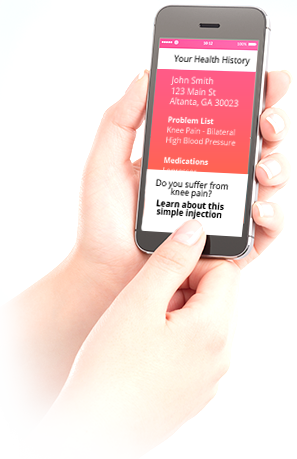 eMarketMD provides access to ensure your marketing message is communicated when patients utilize technology to manage their health care. As healthcare has transitioned into a digital technology, eMarketMD delivers your marketing message to patients. 
Communicate the option of knee injections as an option to total or partial knee replacement
Communicate the option of total or partial knee replacement as an option to knew injections
Communicate the option of a better medication with few side effects compared to a specific competitors drug
Offer a discounted or free supply to switch to your medication
Communicate the option of speaking to their healthcare provider about your product or solution
With eMarketMD your marketing message is delivered and viewed based upon the provider and specialty you are targeting. The intended provider can easily review your message and with the touch of a screen request information or an in-person meeting. Contact us today and learn how eMarketMD can provide a better ROI on your physician marketing.